Chiropractic Testimonials
---
"I was having awful shoulder pain and mobility pain in my right arm. After finding a coupon in the mail for Greenway Chiro massage session, I wandered in and now 3 months later, all my shoulder, neck, and arm pain is gone. Truly amazing results with adjustments and massages. I sleep better than ever, my exercise routine and ability to stretch has improved so much. Greenway Chiro staff is friendly, very informative without being pushy and truly gives you concerned treatment and care to reduce pain and improve mobility. Thank you!"
- Veronica
---
"In November 2019 I was suffering from pain in the left arm together with reoccurring numbness in my hand and fingers. After six weeks of chiropractic adjustments, the pain and numbness disappeared. I am 81 years old and still active thanks to the chiropractic treatments that I have received. It is a truly remarkable process."
- Anonymous
---
"Before treatment, I was experiencing mid and lower back pain and limited flexibility. I had difficulty getting out of bed, rising from chairs, and tying my shoes. Since beginning treatment, all back pain has disappeared and my range of pain-free mobility has increased. I can now almost touch my toes, something that has not been possible since my mid-thirties. Happy with the results!"
- Anonymous
---
"I started coming to Greenway Cotton Chiropractic for left hip pain. After evaluation, Dr. Bill recommended a treatment plan of adjustments to reset my body's muscular pattern. The pain is greatly diminished and I have noticed less stiffness in my back and neck as well. Dr. Bill took the time to review videos of exercises to relieve hip and back pain and sent me one so I can do them at home. The staff at Greenway Cotton Chiropractic is friendly, informative and work with you to schedule appointments. With regular maintenance adjustments, I expect continued improvement."
- Linda
---
"Success does not always come all at once. It comes in stages, very slowly at first. I began my journey with chiropractic and cold laser therapy in September. My lower back and shoulders hurt so much that it was making it difficult to work and sleep. I was losing range of motion in my shoulders too. With the treatments I have gained more range of motion and the pain is less especially in my lower back. I am happy to have found that cold laser and chiropractic treatments are beneficial to my health and help keep me moving with less pain. The whole team here is just awesome! They are so friendly and positive. Their mission and goal is to improve the lines of their patients and that is exactly what they do! I am thankful for the Doctors and staff for their expertise and positive caring!"
- Judie
---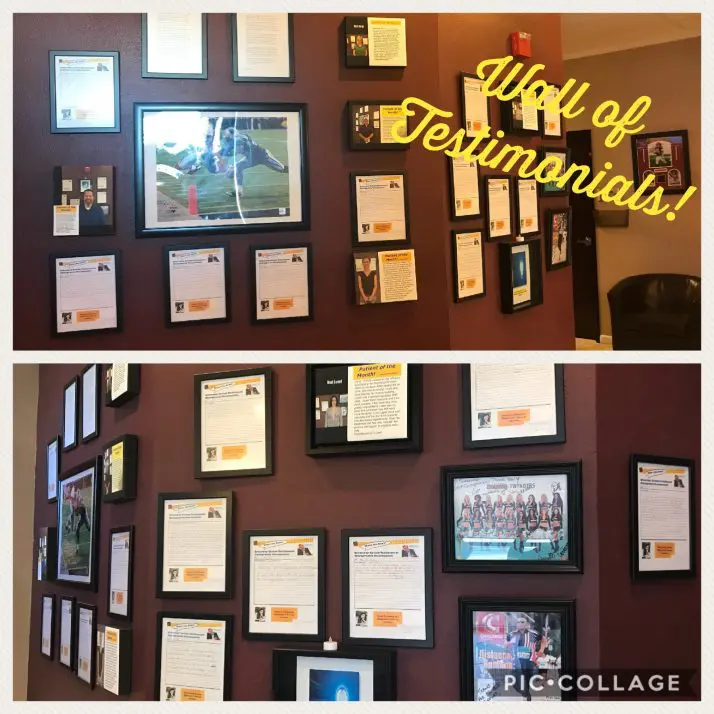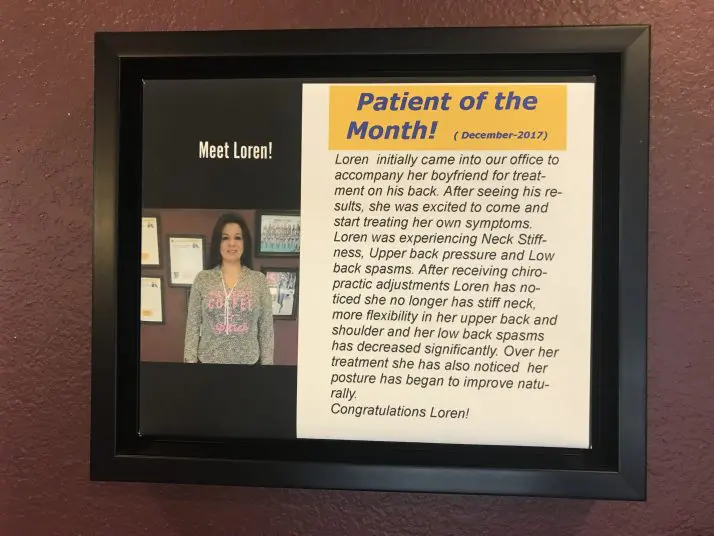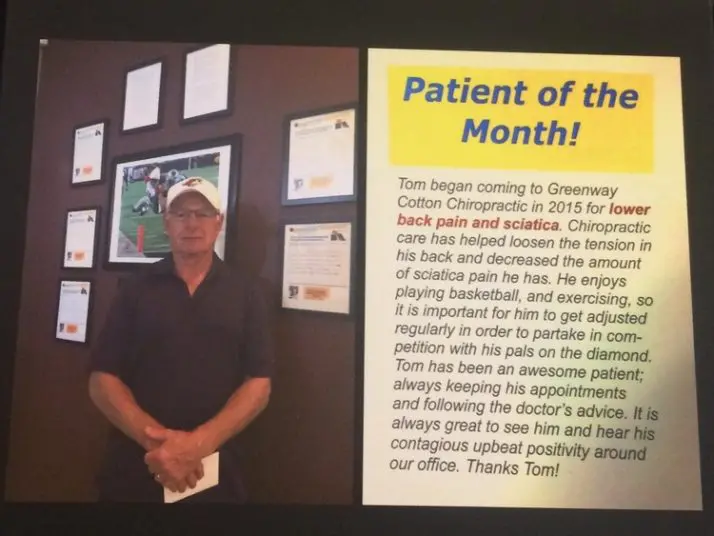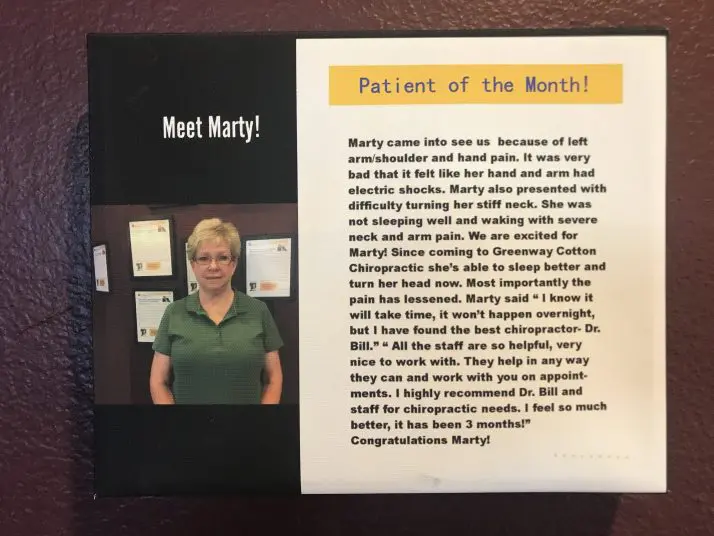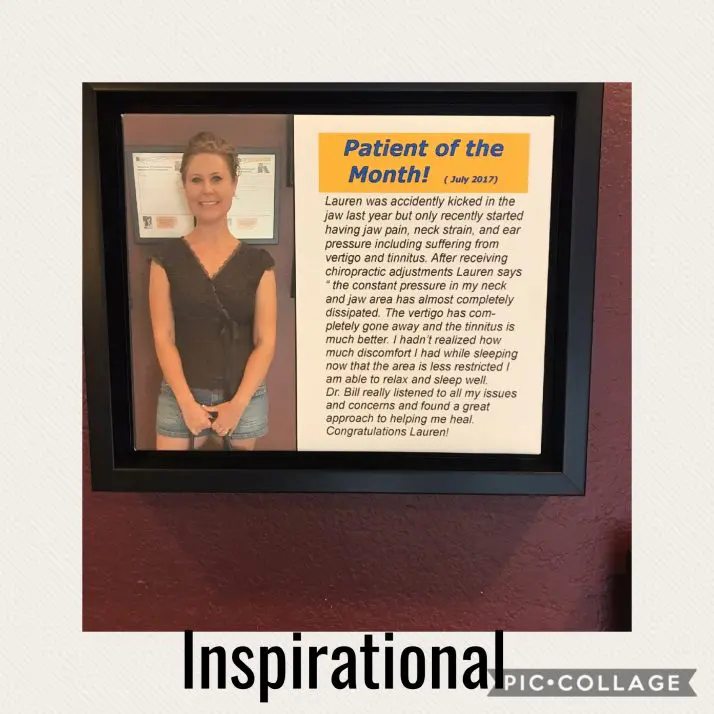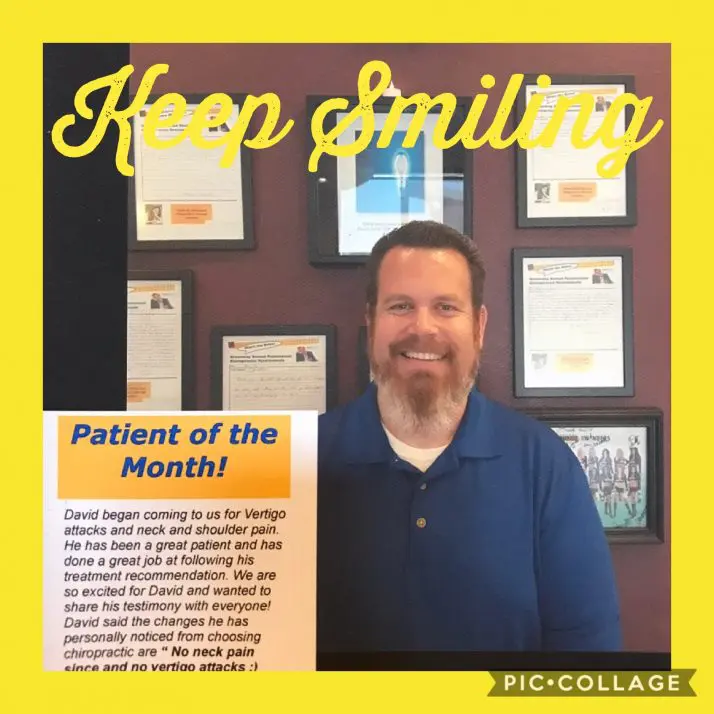 OFFICE HOURS
---
Monday
8:00am - 1:00pm
2:00pm - 6:00pm

---
Tuesday
9:00am - 1:00pm
2:00pm - 6:00pm

---
Wednesday
8:00am - 1:00pm
2:00pm - 6:00pm
---
Thursday
9:00am - 1:00pm
2:00pm - 6:00pm
---
Friday
8:00am - 12:00pm
---
Saturday
Closed
Greenway Cotton Chiropractic and Body Harmony Massage
16995 West Greenway Road #102
Surprise, AZ 85388
(623) 433-8895